Supply Chain Management: The Basics
What is Supply Chain Management (SCM)?
Supply Chain Management (SCM) is the optimisation of processes from raw materials, production and logistics to move goods and services. SCM encompasses comprehensive planning and execution to manage the movement of material, information and capital. This includes demand planning, procurement, production, inventory management and storage. Supply chain managers must work with business strategies and specialist software in the management process.
How does Supply Chain Management work?
Supply chain management represents a company aiming to establish and manage an efficient and economical supply chain. Supplies include anything from production to development of the products and information systems necessary to direct this activity. SCM focuses primarily on controlling and connecting the production, shipment and distribution of products. By integrating supply chains, businesses can reduce excess expenditure and deliver products to their customers faster.
Why is Supply Chain Management important?
Supply chain management provides many opportunities to increase profits and is particularly useful for multinational and international businesses. Logistics management has a major impact on business and helps with various business objectives. Controlled manufacturing methods can improve product quality and prevent recalls while also helping to build an established consumer brand. Moreover, controls regarding shipping operations may improve customer service to eliminate costly shortages and inventory shortages.
Types of Supply Chain Models
There are different types of supply chain models that businesses can use. The type of model depends on the business's goals and objectives. The most common types are:
- Make to Stock (MTS)
- Make to Order (MTO)
- Assemble to Order (ATO)
- Engineer to Order (ETO)
Which model is best for your business will depend on a number of factors, including the type of product you sell, your manufacturing process, and how quickly you need to get the product to market.
Make to Stock (MTS): Products are manufactured before customer orders are received. This is common in businesses where demand is relatively predictable, such as with food and beverage products.
Make to Order (MTO): Products are manufactured after customer orders are received. This allows businesses to be more responsive to customer demand, but can result in higher inventory levels and longer lead times.
Assemble to Order (ATO): Products are partially assembled before customer orders are received. This allows businesses to reduce lead times and inventory levels, while still being able to customise products for individual customers.
Engineer to Order (ETO): Products are designed and engineered after customer orders are received. This is common in businesses that sell complex custom-engineered products, such as industrial machinery or medical devices.
Supply Chain Management Software
There are many different types of software available to help businesses with their supply chain management. By integrating and automating crucial supply chain processes, companies can improve efficiency and accuracy while reducing costs.
The most common type of software used for supply chain management is enterprise resource planning (ERP) software. This type of software integrates all aspects of the business, including inventory, manufacturing, shipping, and accounting. ERP software can be customised to fit the specific needs of any business.
Other types of software that can be used for supply chain management include warehouse management software, transportation management software, and supplier relationship management software.
Functionalities of Supply Chain Management Software
The use of Supply Chain Management software can provide extensive collaboration with a supplier and accurate forecasting. This provides better visibility of stock levels to reduce buffer stock, lead time, purchase costs and inventory costs.
Supply Management
Purchasing Management: Automate purchasing procedures like quote generation, order and invoice matching, accruals for purchase orders, workflows for approval, controls for quality assurance and supplier sourcing guidelines.
Distribution Requirement Planning (DRP): Forecast future stock availability based on demand requirements.
Align supplier delivery schedules and planning: Utilising Electronic Data Interchange (EDI) standards, share forecast data with suppliers to help them plan production, lower inventory, and lower costs all around the supply chain.
Pricing Management: Establish the general purchase and sale prices that will be applied to items, as well as any pricing exclusions based on criteria.
Catch Weight Management: For products with variable weight, manually change the price unit quantity for a sales or purchase order.
Inventory Control: Gain visibility of stock volume, value, movability, seasonal trends, inventory turnover, lead times, and plan deviations. Using forecast simulators that choose the most suitable stock levels, order timing, and economical order quantity, you can also automate replenishment for some products.
Marketing Support: Manage joint marketing initiatives, margin analysis, and rebate administration. Automatically apply marketing agreements and tags to product lines, applying discounts and rebate computing and communicating with payment software.
Contract Managed Inventory Management: Manage externally owned stock in the warehouse such as customer deposit stock (CDS), supplier consignment stock (SCS), wholesaler consignment stock (WCS), wholesaler deposit stock (WDS) as well as buffer stock. This function also ensures all terms and compliances are adhered to across the system.
Landed Cost Management: Manage shipments to the port of destination, including freight, insurance, customs and taxes incurred as well as insight and control of landed expenses.
Demand Management
Sales Management: Automate and audit processes such as delivery and invoicing; order scheduling; surcharge, price and tax handling; sourcing policy management; vendor managed inventory; cash, commission, currency, discount, credit management; gross profit control and profit check; tracking lost sales; summary and settlement.
Automated Returns: Manage returns with an automated system that allows approval for repairs and replacements. This module also allows the tracking of data such as percentage of refunds and visibility of the product's whereabouts on the way back to the supplier.
Customer Relationship Management (CRM): Analyse your customer base to gain insights on how to target them more effectively. This module also includes tools to aid in the after-sales process.
Matrix Handling: Manage items with a wide range of properties and price them or any combination of items to your desired requirements.
Mobile Sales: Allow the sales team to access the tools they need such as product catalogue and customer information so they can generate orders from wherever they are.
Warehouse Management
Dashboard: Operational transparency through visibility in real-time, from supply-in-line to vendor-managed inventory.
Process Control: Establish precise data collection, strong process control and total visibility throughout production and distribution lines.
Value-added activities: Either offline services like kitting, build-to-order, and assembly, or inline services like client labelling and handling of perishable commodities.
Integrated Labor Management: Manage and monitor your team to increase productivity and engagement.
An Example of Supply Chain Management in Action
Let's say you run a small business that manufactures and sells widgets. You have a limited amount of space in your warehouse, so you can only keep enough inventory on hand to meet current customer demand. This means that if demand unexpectedly increases, you may not be able to meet customer needs.
To solve this problem, you decide to implement a Just-in-Time (JIT) manufacturing process. Under this system, you only produce widgets when customer orders are received.
To make sure your JIT system is effective, you need to have a good understanding of your customers' needs and desires. You also need to have a good relationship with your suppliers, so you can be sure that they will be able to deliver the raw materials you need when you need them.
By understanding your customers' needs and implementing an effective JIT manufacturing process, you can keep inventory levels low while still meeting customer demand. This will help you save money and increase customer satisfaction.
Supply Chain Management and Logistics
Logistics is a part of SCM that deals with the transportation and storage of goods. It includes activities such as order fulfilment, warehousing, and transportation.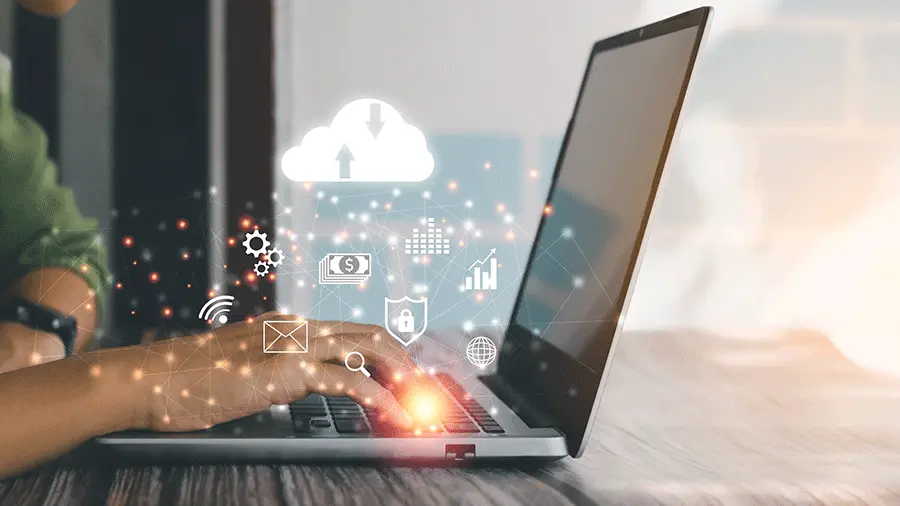 Supply Chain Management and Cloud Computing
The cloud has been a game-changer for businesses of all sizes. It's provided new opportunities for companies to be more agile, efficient, and effective. And it's also had a major impact on supply chain management.
Cloud computing is transforming the way businesses manage their supply chains. By moving SCM to the cloud, businesses can take advantage of real-time data, improved collaboration and greater flexibility.
The cloud is also making it easier for businesses to connect with their global supply chains. With the click of a button, businesses can now access suppliers from all over the world. This gives them a wider pool of potential suppliers to choose from and helps them find the best possible prices for their products.
Overall, the cloud is making it easier for businesses to manage their supply chains. By taking advantage of the cloud, businesses can improve their efficiency, save money, and better serve their customers.
Traceability and Transparency in Supply Chains using Blockchain Technology
Blockchain technology is another game-changer that's transforming the way businesses operate. Blockchain is a distributed database that allows all participants to see and verify the data in the chain. This transparency and security makes blockchain an ideal solution for supply chain management.
With blockchain, businesses can track their products from manufacturing to delivery. This traceability helps businesses ensure the quality of their products and root out any issues in the supply chain. Blockchain also makes it easier to track and manage contracts, payments and other documents.
Overall, blockchain is making it easier for businesses to manage their supply chains. By taking advantage of blockchain, businesses can improve transparency, reduce costs, and streamline operations.
Total Quality Management
Total quality management (TQM) is an approach that organizations use to improve their internal processes and increase customer satisfaction.
The goal of TQM is to continuously improve the quality of products and services by identifying and addressing problems as they occur. To do this, TQM relies on four main principles:
Continuous improvement: Organisations should always be looking for ways to improve their products and services.
Customer focus: Organisations should constantly be thinking about how they can better meet customer needs.
Employee involvement: Employees should be involved in all aspects of the organisation, from decision-making to problem-solving.
Process orientation: All organisational activities should be designed around processes, so they can be improved and controlled.
History of Supply Chain Management
The history of Supply Chain Management can be traced back to the early days of commerce, when businesses first began to produce and sell goods on a large scale. However, it was not until the mid-20th century that SCM began to emerge as a distinct field of study. In the years since, SCM has undergone a number of changes and evolution. Today, SCM is widely recognized as a vital part of any business, and it plays a critical role in the success of multinational and international businesses.
Final Thoughts
By taking advantage of the latest technologies, businesses can improve their efficiency, save money, and better serve their customers. With the right approach, supply chain management can be a powerful tool for success. If you are looking for enterprise resource planning (ERP) software for supply chain management, contact us today and we'll be happy to help.